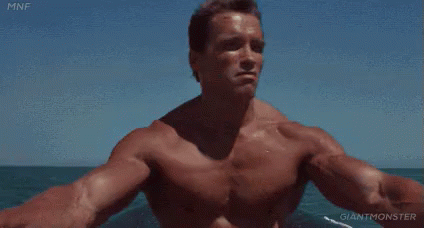 Commando and the start of my odyssey
If you work out religiously like I do, there's a good chance that a series of events pushed you to the proverbial tipping point where you finally said to yourself "Enough already. Let's do this!"
I reached that tipping point after watching Commando on VHS in the summer of 1986. Seeing Arnold Schwarzenegger's muscular physique inspired me to add some meat to my bones. At 16 years of age, 6'2" and about 160 pounds, I was textbook skinny.
Like most subjects I take on, I began bodybuilding by researching it. I read endless books and collected towering stacks of muscle magazines. I wrote down every workout and meal. I weighed my food, calculated my macros (before "macros" was a thing) and measured the girth of my muscles. For better and for worse, this became the center of my universe.
My first lifting sessions were performed in the basement of my home using a York vinyl barbell set. Once those weights became too light, I found the courage to join a real gym with real weights. Called Popeye's Gym, it was located about 7 miles away. I would spend nearly 20 years pumping iron there.
During my first workout at Popeye's, I recall doing squats with a bar-bending 95 pounds. I asked the thickly built powerlifter who was working the front desk to check my form. Like a good bodybuilding nerd, I had my training journal and a stopwatch with me, the latter so I could time my rest periods. Noticing this, the powerlifter said something along the lines of "You don't need to be that exact." (I would later learn that rushing between sets was not something most powerlifters were keen on.) He also pointed out a wiggle that occurred in my hips as I rose from the bottom position of the squat. He advised me to correct it before it became hard-wired. To this day, my hip still wiggles slightly when I squat.
The Experimenter
As far as my bodybuilding progress was concerned, it was apparent to me early on that I had a genetic undisposition to building muscle; I was a "hard gainer," as they say. Thus, by the time I entered my 20s, I had experimented with virtually every resistance exercise and nutritional method you could imagine, plus some you probably could not. No permutation or combination was left untried.
The gym and the kitchen were my labs; every workout and meal, an experiment. High reps. Low reps. Drop sets. Supersets. Eccentric-only. Isometrics. Super-slow. Explosive. Heavy Duty. Whole-body. Bro split. Two-a-days. Three-a-days. Power Factor. Bulgarian. German Volume. Kaatsu. ABCDE. Anabolic. Atkins. Carb cycling. Caveman. Intermittent fasting (before it was a thing). Keto. Vegan. Paleo. Rice and tuna. Oats and egg whites. Chicken breast and broccoli. Only protein bars and shakes. Only fruit and sirloin steaks. I tried it all, and then tried it again.
By my 20s I had also gravitated to reading scientific journals with dry titles like American Journal of Physiology, Journal of Clinical Investigation and Journal of Nutrition. Photocopies of studies and review articles marked with yellow highlights littered my bedroom floor. At one point, the layer was so thick that I heard an earwig crawling through it during the night, perhaps thinking it had discovered a giant grain crop to feast on. (I cleaned up my room shortly after that.)
If I found a particularly interesting paper, I would email the author, typically a professor at a university somewhere. Not everyone responded, but many did. Some of them even became pen pals of sorts, like the late Drs. Atko Viru (University of Tartu, Estonia), Michael J. Rennie (University of Dundee) and Samuel P. Bessman (University of Southern California Keck School of Medicine). Aided by their insights, I hoped to understand not only how exercise can make muscle grow at the cellular and molecular levels, but also why; i.e, "What function does it serve the human body?" This, I figured, would help me craft the perfect muscle-building workout.
The uni years
As for my own formal schooling, my first attempt at university after high school didn't pan out so well. I began by studying economics –a subject that I now enjoy reading about daily– at Wilfred Laurier University. A combination of poor marks and uncompleted courses eventually forced me out of the program. The school had placed me on "academic probation," a label that would severely delay my second attempt. I finally earned my Honours Bachelor of Science degree from the nearby University of Waterloo in 1997. At 27 years of age, I felt more than a little behind in getting a career started.
"A career of what?" I wondered. I thought about becoming a doctor, like my Dad. My marks weren't nearly competitive enough for medical school, however. (I applied two years into my science degree, but was turned down.) How about a research scientist? I interviewed at some grad schools, got accepted by one and decided it wasn't for me.
While attending university, I wrote articles for bodybuilding magazines, including Muscle & Fitness, Ironman and Muscle Media 2000. This led to assorted contract research and marketing copywriting projects with a number of sports nutrition companies, though nothing I could see building a career around. (One of my first big projects was with Next Nutrition, creator of the original Designer Whey brand of whey protein powder.)
USA-bound
Going back to my teens, I'd wanted to live and work in the United States –not an easy thing for a Canadian citizen to do. Southern California looked good, so why not start a new life there? In August 1997, I packed my things and drove non-stop from Waterloo, Ontario to San Diego. Roughly 44 hours later, I was so exhausted that I sailed right on by my destination before turning around not far from the Mexican border at Tijuana.
A few months later, realizing that it was going to be practically impossible for me to gain legal employment stateside, I drove up the west coast -once again, non-stop- to the city with the warmest winters in my home country: Victoria, British Columbia. I had not given up on my goal of living and working in the US, however.
The official start of my sports nutrition career
After two years of part-time jobs at health food stores and burning through savings, luck came calling, and I was ready. A classified ad (remember those?) in the Toronto Star newspaper grabbed my attention. It was for a full-time job in research and development at a rapidly growing, Toronto-based sports nutrition company that made dietary supplements for bodybuilders. As soon as I read the ad, I knew I would get the job. I had the knowledge base it required, in spades.
When the topic of salary came up during my job interview, I somehow signaled that I was interested in making a counter-offer. The owner of the company told me, "There's no negotiation. This is how much you will be paid." It would be one of my earliest lessons in negotiation. My career had officially begun. It was May 1999. It wouldn't be long before I achieved my goal of living and working in the US.
My first few years in the sports nutrition industry were eye-opening. Writing for bodybuilding magazines and performing contract copywriting projects had provided me with some insight into its peculiarities. However, as I moved from company to company, taking on progressively higher-level positions, I witnessed first-hand that developing a supplement was all too often more about smoke and mirrors, shortcuts, sleights of hand and selling "hope in a bottle" than honestly helping consumers solve real-world problems.
As a straight shooter and one not prone to drinking the proverbial Kool-Aid, this posed a challenge for me at a number of levels. Nevertheless, over time I learned that I could help companies grow with my unique ability to translate science into brand and product concepts and perform what's known in marketing as "positioning". My stubborn push for greater transparency in the industry, while not always listened to (and years ahead of its time, in hindsight), was at least appreciated more often than not.
In 2007, before the start of the Great Financial Crisis, I lost my job at a leading US-based sports nutrition company. (Such timing!) By now, I had acquired my green card and was on the way to becoming a US citizen. A non-compete agreement with my former employer prevented me from obtaining work elsewhere in the industry for a year. Fortunately, the CEO released me from my non-compete early and hired me back as an independent contractor. That's when my new career as a consultant took flight.
I left a ton of details out of my story. To sum it up, beginning in 1991, over the course of more than 20 years and working with more than 30 companies, I've been involved in just about every facet of creating a brand and product, from ideation to formulation, manufacturing, positioning, messaging, creative direction, clinical studies, regulatory, legal and more. I've had plenty of successes, and I've also learned what doesn't work. As an example of the former, I formulated and helped bring to market a pre-workout drink mix that generated over $32MM in its first 3 years and remains a top-10 best seller on Amazon today.
Some of the brands and companies I have worked with: Muscletech, MET-Rx, Sport Pharma, BSN (sold to Glanbia), GAT, MHP, Old School Labs, Califina, EBOOST, MRI, ProLab, Rivalus (sold to the founders of Optimum Nutrition), Beast Sports, Labrada Nutrition, Proformance Foods (makers of Protes protein chips), Champion Performance (sold to Clorox), Betancourt Nutrition, Xymogen, PhytoMedical Technologies (I was the only board member without a PhD), Ambronite, FutureCeuticals, Next Nutrition (makers of Designer Whey), Beverly International, ISS Research, Benepha, Dorian Yates Nutrition, TV Compras, Inner Armor, Revertrex, Scitec Nutrition, Chromadex, BioCell Collagen, Technical Sourcing International, Infinite Labs, Intellibrands.
I was the Senior Marketing Executive and subsequently the Director of Business & Brand Development at BSN during which time it grew over 3000% and was ranked #27 of Inc Magazine's Top 500 fastest-growing companies. BSN was acquired by Glanbia PLC in 2011 for $144MM.
I have coordinated and co-designed six IRB-approved clinical studies, such as with Louisiana State University's Pennington Biomedical Center. I am the co-inventor of two patents.